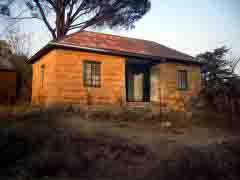 Our home in Lesotho is at St Agnes Mission, just outside Teyateyaneng.
The house is being provided by the Church Council. It is quite modest: a bedroom, a bathroom, and a kitchen/living room. The house has electricity and, thanks to the Church Council, we now have (cold) water to the bathroom and a sink in the kitchen. A septic tank is being constructed and then the flush toilet in the bathroom should be available for use.
The Mission was founded by the Society of the Sacred Mission, an Anglican order. Our house is next to the original priest's house - no longer in use - and close by the original chapel.
We are a full thirty minutes' walk over the hills from the regional centre of Teyateyaneng, where we can buy virtually everything we need and use the internet cafe for e-mails and to update our blog. There is even a library with books in English. We have registered with the Post Office: get our postal address from the Contact Us details.
Our house is at the centre of the map. Why not explore our neighbourhood? Teyateyaneng is to the east of the house.
(Use the arrows to move, +/- to zoom, and point at a box to find out what it is.)

(After you've toured the area, you can try this: Click on WikiMapia at the top right on the map. When it opens up to full screen, point at View at the top left, then click on Terrain. You will discover that our house is just over 1,600 metres above sea level. No wonder the steep parts on the walk to Teyateyaneng over the hills make us puff!)
If you come to visit us, the turn off the main road to the Mission is opposite the Metro cash and carry. Just make your way up the hill, past the church and you will find us just past Helang Basali weavers. Just a M14 (£1) ride by minibus from Maseru.